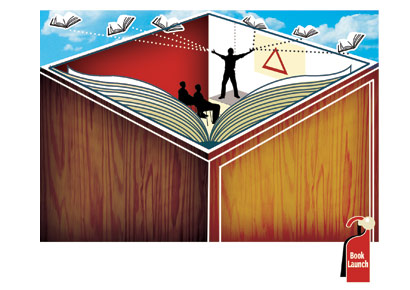 Manil Suri's new novel, The City of Devi, is releasing this month, and the US-based author is in India to promote his book and participate in the Jaipur Literature festival, where he is one of the star attractions.
I had reviewed Suri's earlier novel, The Age of Shiva, for this paper, and we had remained in touch sporadically. Prior to his India visit, we connected again, and when he said he had a book launch in Gurgaon, I jumped at the opportunity to meet one of my favourite writers. But strangely enough, Suri told me to hold on. He would have to get me a special invitation, he said, as this was a "closed door book launch".
"A closed door book launch?" I was incredulous. For most publishers in India, it's a struggle to get a decent crowd for launches, and here was somebody actually shutting the door on potential stragglers, like me.
But more surprises followed. "What's the venue?" I asked. "Some IT company," he said. When I landed at the venue, I had a tough time convincing the security that I was not a terrorist but "a personal guest of your special guest, Mr Suri". When they finally let me in, I walked past a large bay of cubicles to a designated closed door, opened it, and stepped in to find Suri reading from his book to a group of about 30-40 people.
The session was being moderated by the "Programme Manager — Performance Benchmarking, Value Engineering, Chief Customer Office". As you would have guessed by now, I knew exactly what this guy did for a living. And whatever that was, his questions, at any rate, were consistently more intelligent than the ones I have heard from the good-looking, young moderators of the Jaipur Lit Fest. Here's a gem: "You are a mathematics professor, and a novelist. Which is more difficult? Solving a differential equation or writing a novel?" Suri gave a sensible answer: Both involve problem-solving, and are tough, but a novel is more forgiving, in the sense that you can find wrong solutions, and end up writing a bad novel. But with a differential equation, you either find the solution or you don't — the wrong one simply won't do.
The highlight of the programme was Suri's power point presentation (ppt) on his novel. It was definitely the most entertaining ppt I've ever sat through in my life, besides being the first one by an author on his novel.
Suri had included sound effects, cut-outs of faces to represent his characters, and used visual elements such as a maze and a pomegranate to illustrate the various aspects of his novel. The most fascinating dimension of his writing process was the mingling of the literary and the mathematical.
He had actually plotted the various narrative arcs, only to end up with 'mathematical proof' that The City of Devi could not be written. Just as he was ready to give up, his agent/editor wanted to take a look at whatever he'd written till then. He decided to polish the draft one last time before sending it to her. And that's when he found a way to approach his material afresh, and eventually managed to 'balance' the fictional equation.
Suri then went on to explain how he employed the rule of threes, or the triangle, as a device to frame his plotting issues. By the time he was done, you were left wondering why more authors didn't give ppts at their book launches instead of reading from their book.
After the event, I got talking with the IT guys, and it turned that calling Suri to their office was a part of their "employee engagement programme". They had a number of 'interest groups' – and this programme had been organised by the 'Book Interest Group'.
Suri himself seemed more than happy to interact with the group of engineers, as opposed to the usual crowd of journalists, retired bores, and wannabe authors that throng such events at books shops.
As we said goodbye, Suri mentioned that he was leaving for Jaipur the next day. And later, reading in the papers about how big the 'open-door' Jaipur Lit Fest has become, thanks to corporate money, I couldn't help wondering if the average book lover in Jaipur this weekend could hope for the kind of cosy, intimate session with a celebrated author that a typical employee at this IT MNC could enjoy. I don't want to underline the irony in this, but then, well, here I go.